Services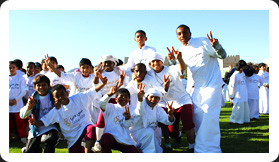 What we offer: Stadia5 SSC provides a wide range of services including Complete Solution for any kinds of Sporting Events, Social
and Cultural Events, Corporate Events, Product Launches, Opening Ceremonies, Gala Dinners, Various Exhibitions, Conferences
and various event related services...

Consultancy: Stadia5 also offers specialised sports consulting services. We aim to provide effective, innovative and strategic player management & consulting services and solutions for the global sports industry. With both its local based firm & global perspective, Stadia5 seeks to facilitate the development and progression of its sports athletes and clients worldwide.

Summer Camps: Stadia5 organises Summer Camps, Goal keeper training & workshops for local clubs in the Middle East & Europe.

Leagues & Tournaments: Stadia5 organises Football, Futsal Leagues & Tournaments, Cricket & Basketball Tournaments on a
regular basis. Register Now



Leagues & Tournaments

Football, Cricket, Basketball
Football Indoor & Outdoor, Cricket, Basketball..
We have a variety of games that you can play starting from Indoor 5 aside Futsal and Outdoor 7 aside. Apart from this we also have Cricket & Basketball Tournaments. We encourage all abilities to participate as they are meant to bring people closer, create networking and most of all keep you fit. Register now

Complete Branding
Solutions
Branding Services
We undertake complete branding of event location:


venue branding for stadium, pitch


road signs, banners, billboards, flags


arch, helium balloons, glowing balloons


glass door and window stickers, floor stickers


fleet branding for cars, buses, vans etc.

Promotional Merchandise
& VIP gift items
Personalised Gift Items for VIPs and Promotional Items
We provide all kinds of Personalised Promotional Items and V.I.P. gift items for any event along with Eco friendly gift items branded with Company Logos. Items include T-shirts, Caps, Jackets, Vests, Wristbands, Bags, Lanyards, Laptop Bags, Pens, Notepads, other stationery items, Mugs, Sunshades, Flash USB, Torchlight, Laser etc.